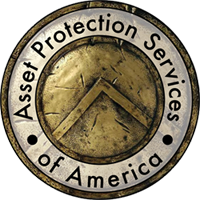 © 2004 - 2017 Asset Protection Services of America. All Rights Reserved.

Contact Us
NOTICE to All Our Clients
A
sset
P
rotection
S
ervices of
A
merica has recently purchased
C
orporate
S
upport
S
ervices of
N
evada, Inc. Mr. Jay Butler acted as the former Vice-President of
CSS Nevada
in 2004 and 2005 and, along with Mr. Alan Russell who was the former founder and CEO of
CSS Nevada
since 1998, we are very pleased to welcome you to our new corporate family! If you should have any questions or concerns about your account or our new spacious offices in the capital of Carson City, please feel free to contact us and we will gladly provide you with immediate assistance.

Office (775) 461-5255
Fax (775) 461-1155
Asset Protection Services of America
A
sset
P
rotection
S
ervices of
A
merica is an
Incorporation Service Provider
, a
Commercial Registered Agent
and member of the Nevada Registered Agents Association with offices in both the capitals of Carson City, Nevada and Cheyenne, Wyoming. APSA has been providing asset protection, tax strategies, estate planning, offshore incorporation and dual citizenship services since 2004. We offer the complete formation and organization of Corporations, Limited Liability Companies, Limited Partnerships and Trusts in all 50 states and 10 countries internationally.

Review any of our eight (8) publications today or contact us for your free private consultation so we can assist you in determining which type of entity and jurisdiction best meets your needs. If you need information or assistance with incorporating offshore or dual citizenship, please visit our website for
International Services
.

Please feel free to learn more
About Us
, read our
Client Testimonials
, purchase our books below, utilize our
Sitemap
, subscribe to our free periodic
Newsletters
, download our
Order Forms
or contact us for your
Free Consultation
today!
"Cover Your Assets" Newsletter

Asset Protection

Tax Strategies

Estate Planning
Tab 1
Tab 2
Tab 3
Tab 4
Nevada
701 South Carson Street
Suite #200
Carson City, NV 89701-5239
Office (775) 461-5255
Fax (775) 461-1155

Wyoming
1908 Thomes Avenue
Suite #5000
Cheyenne, WY 82001-3527
(307) 215-7701
Business Hours
Monday – Friday
8:00 am to 8:00 pm
(Pacific Standard Time)
Click Below to Give Us Your 5-Star Review Today!